Shopping and Everyday Travel (page 2 of 2)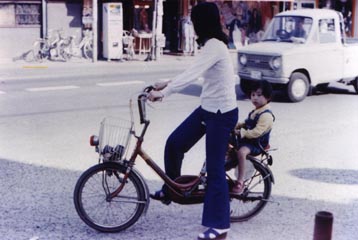 A mother and daughter going shopping. Note the size of the pickup in the background. Normal size pickups were not much bigger. I'm 5'9" and I could rest my arm on the top of a normal pickup.
---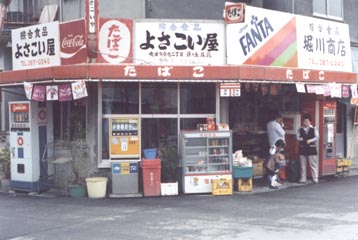 A normal mom and pop convienence store. Most stores were manned by the grandmother in the family. Because there is no stealing in Japan, I sometimes had to yell inside for the obaasan to come out so I could pay for the item I had in my hand. Tokyo nowadays has what are called chain stores like our 7 - 11's.
---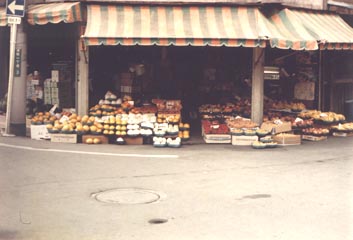 This is a standard corner fruit stand.
---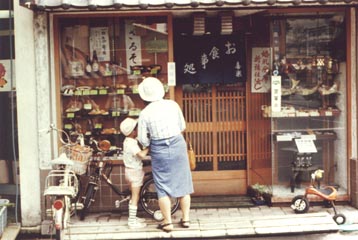 This is the front of a restaurant. Everything on the menu has a plastic (but very real looking) display in the front window. Almost all restaurants do this.
---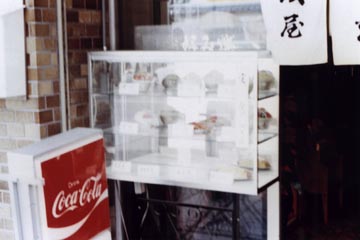 Here we have another picture of the display menu for a small restaurant.
---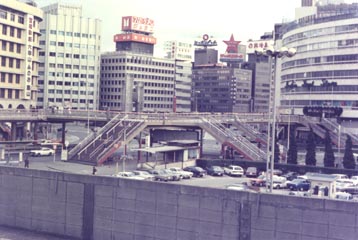 This is downtown Osaka. Underneath this area is where all the different commuter train companies have their main stations all link together (Umeda).
---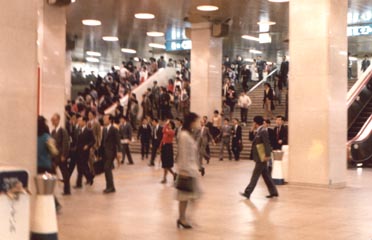 This is Umeda. This place is BUSY. I took this picture to try to get a sense of how busy it is.
---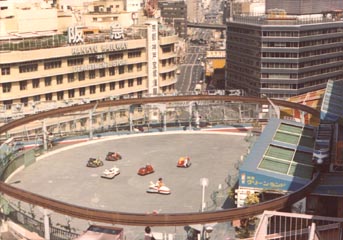 This amusement area is on the top of one of the tall buildings in downtown Osaka.
---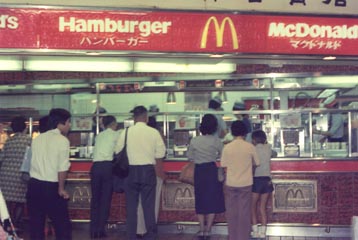 Underground in the same area is a vast shopping complex. I think there are seven levels underground and that this McDonalds is three floors underground. In 1976 (if I remember correctly), a hamburger cost 800 yen. Meat is expensive in Japan.
---
Main Page Inside the Home Outside the Home
Tourist Sites Himeji Nara Shigisan